Regular price
$145.00 USD
Regular price
Sale price
$145.00 USD
Unit price
per
Sale
Sold out
View full details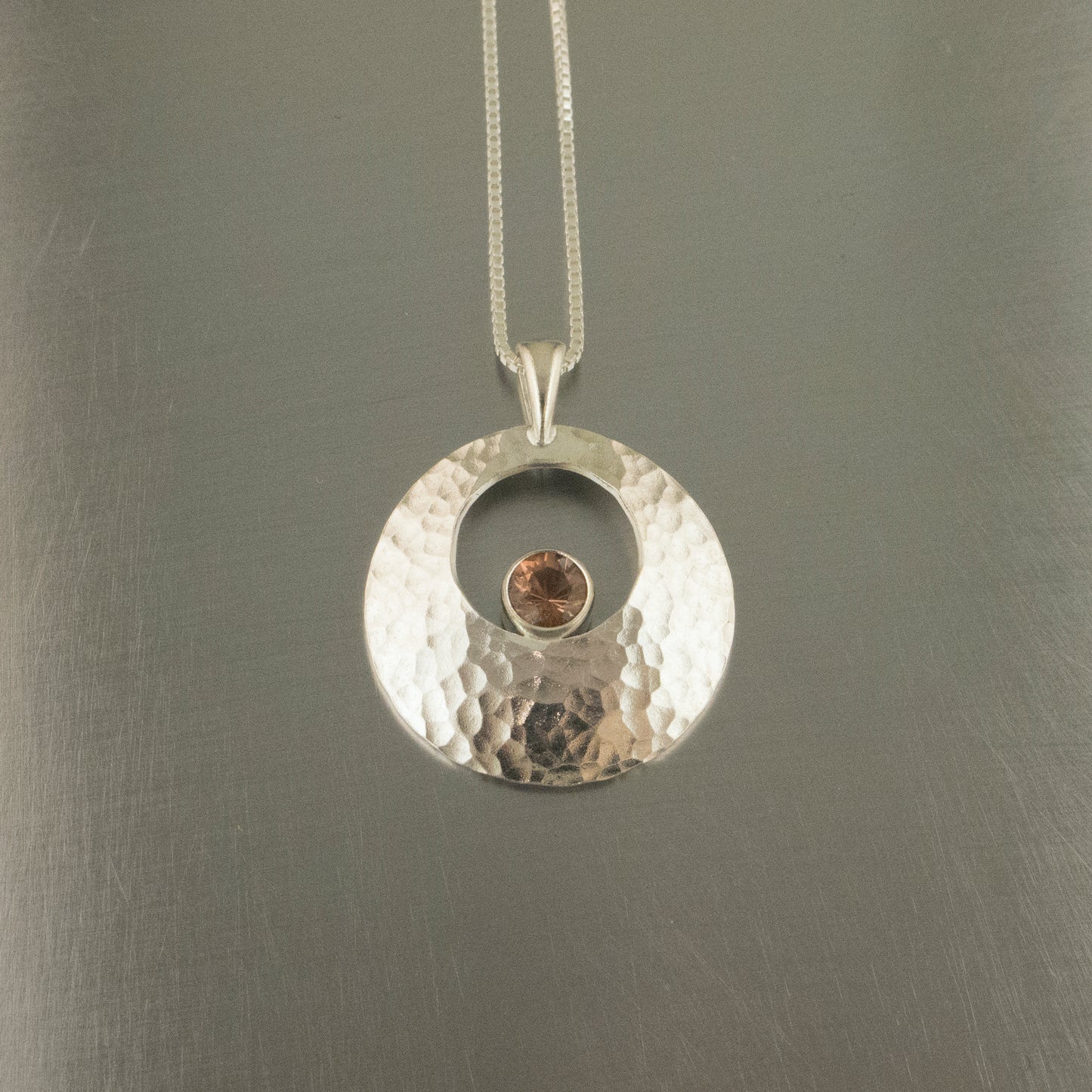 Create a custom Galilean Moon Pendant with Oregon Sunstone in Sterling Silver!
The Galilean moons are the four largest moons of Jupiter—Io, Europa, Ganymede, and Callisto. They were first discovered by Galileo Galilei in 1610- and were the first objects found to orbit another planet. Their names are derived from the lovers of Zeus in Greek Mythology.
Callisto is the second largest of the four Galilean Moons and is one of the most heavily cratered satellites in the Solar System- Callisto's surface is represented by our "Ball-Peen" Texture.
Europa is the smallest of the Galilean Moons and is just slightly smaller than Earth's Moon. Europa has a bright icy surface which is streaked with fine lines and cracks- Europa's surface is represented by our "Tree-Bark" Texture.
We offer 2 distinct Hammer Texture styles:
Ball-Peen (Callisto)
Tree-Bark (Europa)
All Galilean Moon Pendants feature a 5mm (approximately .50ct) Oregon Sunstone.
Complete the set with a matching pair of GALILEAN MOON EARRINGS!
Choose the COLOR CATEGORY of your Oregon Sunstone:
Champagne- Mostly colorless with hints of yellow, pink or green.
Peach- Various shades of pink to orange, with or without Schiller.
Sunset- Bright and fiery orange to red tones.
Oregon Sunstones are 100% natural and never treated, because of this, there is a lot of natural variation in color. Your Oregon Sunstone may vary slightly in color from the Oregon Sunstones pictured above.
These handmade pendants are approximately 1" long and 3/4" wide and are made entirely of Sterling Silver. Every pendant comes with a Sterling Silver box chain, your choice of 16" or 18". Not sure of the length you would like, please check the Necklace & Chain Reference Guide Here.
(If you would like a different size or color which is not listed above please send an email to info@sunstonestore.com for information on how to make a special order.)
Pendants are MADE TO ORDER, please allow up to 1 week for us to create your custom Oregon Sunstone Jewelry, plus shipping.