Steven Douglas has been making things with his hands since building model airplanes on the kitchen table as a kid in the '60's. In his early teens, friends introduced the Douglas family to rock hounding and lapidary (the shaping and polishing rocks and gems), while on a camping trip near Lake Tahoe.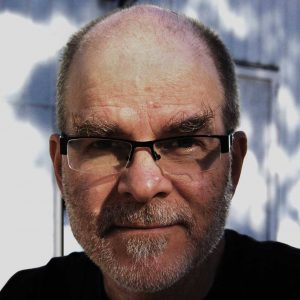 Owner, Designer, Jeweler, Lapidary Artist
With stones in hand, Steven took his first jewelry metals class in 1972 at Sir Francis Drake High in San Anselmo, California. Steven continued his jewelry and arts and crafts education at Marin Community College in Kentfield, and on the job at various jewelry manufacturing concerns around the San Francisco Bay Area.
In 1979 Steven took a position as a goldsmith's apprentice in Sonoma, California where he worked and studied under master goldsmith John Stephan Garfolo and like Elyse, took advantage of advanced training at the Revere Academy of Jewelry Arts in San Francisco.
From 1983 to 1988 Steven worked in Santa Rosa, California for Larry Williams Manufacturing Jewelers where he learned a more traditional style of jewelry making in contrast to the very modern style of John Garfolo.
Born in Heidelberg, Germany while his father was in the Army, Steven developed a fascination with the German tradition of quality craftsmanship. While working and studying in the San Francisco Bay Area, he gravitated toward German-trained designers and goldsmiths.
Steven tends to be more the technician for the store, whereas Elyse is the lead designer. His primary responsibility in the shop is ensuring that client projects are completed on time and to specification, maintaining the high standards that people have come to expect of The Sunstone Store.
When Steven designs his own jewelry, he likes to explore the boundaries between traditional technique and modern technology.
To contact Steven please email him at steven@sunstonestore.com